mercredi 4 juillet 2007
Sono in fase di trasloco. Questa è una parete della camera da letto, in stucco veneziano lilla (non ancora lucidato)
I'm moving. This is a wall of my bedroom, in venetian stucco (not polished, yet).
L'altra camera/studio è arancione, e sarà ricoperta di librerie piene di libri e fumetti!!

The other room/studio is orange, and it's going to be covered with bookcases full of books and comics!!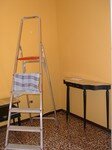 Hugs!
Commentaires sur Moving!!!